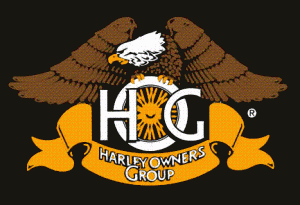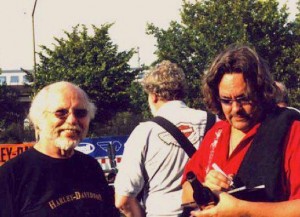 Pat Savage signing his  "Hog Wild" CD to old friend Willie G. Davidson
"Pat is truly one of the Harley Davidson music legends in the making.  We have known Pat Savage and his great music since the early 90s seeing him perform at Daytona Bike Week, Myrtle Beach Bike Week, Laconia and more. When we saw him at the 100th Anniversary Open Road Tour in Hamburg Germany we knew he had truly made it world wide!"
Willie G. Davidson

"Pat Savage performed solo for us at the 6th Annual National India HOG Rally and absolutely knocked us out with his traditional styling and words about our Harley Davidson lifestyle around the world and here in India. All 26 HOG Chapters were in attendance and all agree with me Pat Savage is "The King Of Biker Music" worldwide. We expect him back in 2018!

Bikram Puri National HOG Director India
"Pat Savage joined us here in Amman Jordan for the 5th Annual Kingdom Of Jordan Chapter HOG event called the "Dead Sea Rally" and knocked us out with a solo performance featuring acoustic versions of his original Harley and biker themed music as well as some well known cover songs. Pat stayed on in Jordan and returned again later in the year to film an episode of his "The Savage Roads" biker adventure series soon out and we look forward to seeing it ourselves. Pat is Number one in motorcycle event entertainment period!

Walid Nasser Director Kingdom Of Jordan HOG Chapter
"Pat Savage blew us away at the South African National HOG Rally in Colesburg so we just had to have him for our HOG Durban Chapter Thundertown Rally where he stole the show riding his Harley onstage, making love to her and playing behind his head! A real biker entertainer we highly recommend"
Tim Warrington Director. HOG Durban South Africa
"Pat Savage has got to be the absolute best the European HOG event scene. His music is perfect Harley music and he rides right up on the stage! The best there is on the Harley Davidson planet"
Lisa Talbot Director Shreveport HOG USA
We had Pat Savage play at our Norwegian National HOG Rally in Stavanger and he did so well we just had have him back again 2 years later for another national! Great live show with words all about Harley Davidson and our bikers lifestyle.
Tor Tevden Director HOG Stavanger Norway
"We liked Pat Savage so much at our 1st Annual Spanish HOG Rally that we got him back the very next year! Hot live show and really good party music for bikers.
Juango Director HOG Castellon Spain
"Pat Savage is one of the finest guitarists in the world and we love the expressions on his face when he performs live. The man lives and breaths, writes and sings about the Harley lifestyle we love so much!"
Mick Kane Director Western Regional HOG Rally Alberta Canada
"Pat Savage played like a man on fire for our 1st Spirit Bike Week event in 2004 in Luxembourg so we brought him back to headline again in 2005! His live shows are long and with many tunes about the bikers lifestyle we enjoy and in many styles also. Back he was for our 2006 event as headliner again! Absolutely no band better in Europe!"
Tony Krier Director HOG Luxembourg
"Pat Savage rides his Harley all over the world,  then, he rides onto his stage, picks up his guitar and starts wailing! Stunning! A true bikers pleasure to see and hear him!"
"Painless" Director Portland HOG Oregon USA
"Pats show at our 1st Canadian Bike Week in Collingwood took away the breath of his fans who have not seen him for years since leaving in 2003 for the European HOG event scene. His music is perfect Harley music and he rides right up on the stage! The best there is on the Harley Davidson planet"
Peter Maston Director Toronto HOG Canada
"Pat Savage performed at our very first Amsterdam HOG Chapter event in 2003 at the Hard Rock Cafe and we witnessed the beginning of a European conquest! Just him and his acoustic guitar! Lekker!"
Frank Boorn Amsterdam HOG Chapter Netherlands
"Pat Savage came to Tenerife to play all over the island as a solo artist and ride with our HOG Chapter filming for his upcoming television series The Savage Roads. He was strong enough as a solo artist to have our chapter and everyone else dancing while he beat out songs about riding all over the world. He lives it! He was born to ride"
Jose A. Cortell Olcina Director Tenerife HOG Chapter Spain